Rocking Chair Ramblins
Mark "T. Bone" Cole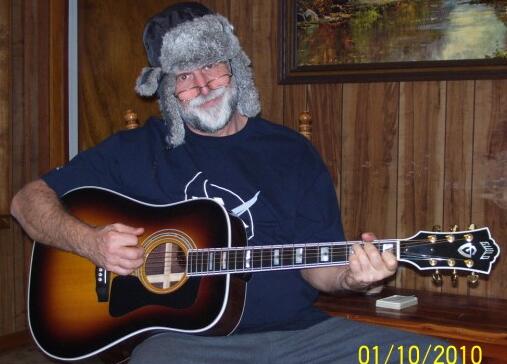 Please 51gn my gu35tb00k before you leave.
---
[ A Few Old Pictures - Click Here ]
[ Part I ]
Got To Start Somewhere
Don't Look At Me-I Just Got Here
There Ain't Time For That
Where Do You Get Those Crazy Ideas?
Hallelujah That Train Keeps A Rolling
Sit Right Down And Take A Load Off Your Feet
Laughin In The Dark
Horse Tradin And Belly Achin
Hot Peppers And An Itch To Go
Bald Eagles Don't Wear Toupees
Don't Give No Lip To A Loaded Gun
[ Part II ]
Bury Me Head First With My Tenna Shoes On
Bureaucrats, Fat Cats, And Plain Ole Polecats
Button Up Your Lips
No Need To Fret, My Well's Dug Deep
Put Your Tall Boots On There's A Party Tonight
Rockin Chair Mumblins
There's No Cuss Like An Old Cuss
For A Woman I Know
How About A Handful Of Moonbeams
Tease Me, Squeeze Me, Then Turn Out The Lights
I'll Shut My Mouth When The Creek Runs Dry
---
Some Pictures
The Cole Family (Click BACK to return)
Picture of Me...(Click BACK to return)
Me and the Cat...(Click BACK to return)
An ole pic of me taken by Alan..(1977)
Pic #2 of me taken by Alan..(1977)
My ole band "The Iron Horse"..(1969)
My ole band "Stray Cat" at rest..(1973)
My ole band "Stray Cat" at work..(1973)
---
Watch these slots for some special links later:


Please 51gn my gu3stb00k.
All That's News in the 'Boro [DNJ]
Jesse Winchester-Folk Singer/Songwriter
World's Best Hamburger
Cousin Alan Freeman's Personal Site
Cousin Alan Freeman's Genealogy Site
Cousin Alan Freeman's Music Control Site
---
©2001-2012 Mark "T.Bone" Cole
www.markcole.us
All Rights Reserved - Copying Prohibited


Write Me!

This site is maintained by Alan Freeman



And sponsored by Wintek Software Company.
This site was updated last on: Friday, June 28th, 5th, 2010
---